Engine and Connection¶
GinoEngine is the core of GINO. It acts like a pool of connections but also does the work of assembling everyone together: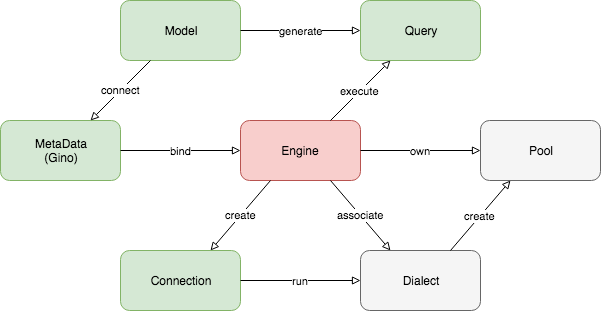 Under the hood, engine is associated with a specific dialect instance on creation, e.g. asyncpg dialect. The dialect is actually a set of classes that implements GINO dialect API, offering all the details about how to operate on this specific database. In the diagram, gray color means internal, while green means touchable by end users.
During creation, the engine will also ask the dialect to create a database connection pool for it. The pool type is also a part of the dialect API, because asynchronous database drivers usually have their own pool implementation, thus their GINO dialects should hide such implementation differences behind the unified diagram API for engine to use.
Note
In SQLAlchemy, database drivers are supposed to follow the DB-API standard, which does not usually provide a pool implementation. Therefore, SQLAlchemy has its own pool implementation, created directly in engine. This is where this diagram doesn't fit SQLAlchemy.
The pool creates raw connections, not the GinoConnection green in the diagram. The connection in the diagram is a many-to-one wrapper of the raw connection, because of the reuse and lazy features, we'll get to that part later. The connection is created by the engine, thus inherits the same dialect, and is used for running queries.
On the outer side, SQLAlchemy queries can be executed directly on the engine or connection. When on engine, it will try to acquire a reusable connection to actually execute the connection, and release the connection after use.
Note
Another difference to SQLAlchemy here: GINO execution methods always return final results, while in SQLAlchemy accessing the result may cause further implicit database accesses. Therefore GINO engine immediately releases the connection when the execution method on the engine returns, but SQLAlchemy can only release the connection implicitly when the result data is found exhausted.
By immediately releasing a connection, GINO may not release the related raw connection when the raw connection was reused from another parent connection. We'll get to this later.
GINO also supports implicit execution without having to specify an engine or connection explicitly. This is done by binding the engine to the db instance, also known as the MetaData or the Gino instance. You may possibly bind a GinoConnection instance, but that is greatly not recommended because it is very much untested.
At last, as the ORM / CRUD feature, models are just add-ons on top of everything else to generate queries. The parent model class is connected to a db instance on creation, therefore the models can do implicit execution too if their db has a bind.
Then let's get to some details.